To mark the beginning of the international 16 days of activism to end gender-based violence campaign, which this year focuses on precarious workers, we are publishing our own list of 16 actions to begin to reduce violence against sex workers. These 16 points are not a fix-all but are a starting point for fulfilling sex workers' rights in Scotland, and use evidence and learning from around the world.
Reject client criminalisation
Sex workers reject the criminalisation of sex work, including the criminalisation of clients (also known as the 'Nordic Model'). Client criminalisation is often seen as the 'feminist' response to prostitution, but international evidence overwhelmingly shows that it increases harm to sex workers. A 2018 LHSTM study showed that criminalisation makes it almost three times more likely that sex workers will experience violence from their partners, clients and the police. Violent crime against sex workers rose by 92% in the two years following the introduction of client criminalisation in Ireland, and 42% of sex workers in France report being more exposed to violence since clients were criminalised in 2016. 
In the UK, clients are already criminalised through kerb-crawling laws, but there have been repeated attempts to further criminalise purchasing sex. We reject any attempt to criminalise clients in Scotland. We talk more about the evidence of how harmful these laws have been in our guide to responding to the Equally Safe consultation. 
Decriminalise soliciting
Laws against soliciting primarily impact women who sell sex outdoors, who are often among the most vulnerable and financially precarious in our community.
The criminalisation of soliciting places an enormous burden on sex workers, who will then need to avoid police in order to avoid arrest or caution. This may mean working in more secluded or isolated places, or leaving an area quickly with a client, leaving them with less time to screen clients, all in order to avoid the police. This does not help keep sex workers safe – quite the opposite. Prosecutions for soliciting can leave sex workers with a criminal record and a fine to pay off. This means not only do they have to work more to pay off the fine, they may also find it hard to find other employment. For migrant women, an arrest for soliciting can be used as the basis for detention and deportation from the country. This is undeniably a form of state violence against women who sell sex. 
We call on the government to repeal legislation that criminalises soliciting. We call on the wider feminist movement to support sex workers' calls to decriminalise soliciting. It should be a feminist goal to improve sex workers' safety and financial wellbeing. 
Decriminalise workplaces and provide workplace protections
Brothel-keeping is currently criminalised in Britain, which means two sex workers can't work together from the same property for safety, and other workplaces are criminalised. Police can raid workplaces and seize money, as well as arrest workers and others on the property. 
There have been documented cases of sex workers being arrested and charged for brothel-keeping when they were working from the same flat for safety. This is obviously very concerning, as it works against the safety strategies sex workers use to avoid violence. 
Many people are concerned about brothels – about their working conditions, about how sex workers are treated. However, if a workplace is criminalised, it isn't possible for the workers to access workplace protections afforded to other workers under the law. They can't effectively advocate for their rights because their very presence in that workplace is criminalised. They can't report exploitation to the police without alerting the police to the brothel's existence and, if it's raided, they will lose their income. When their workplace is illegal, sex workers can't make their bosses comply with health and safety legislation.
Recognising sex work as work can help sex workers access these vital workplace protections. By recognising sex work as work, we are not saying it is 'good' work – sex workers know all too well that abuse and exploitation can happen as it can with other forms of work. It's precisely in recognition of the fact that exploitation can and does happen that we campaign for sex workers to be able to access workers' rights.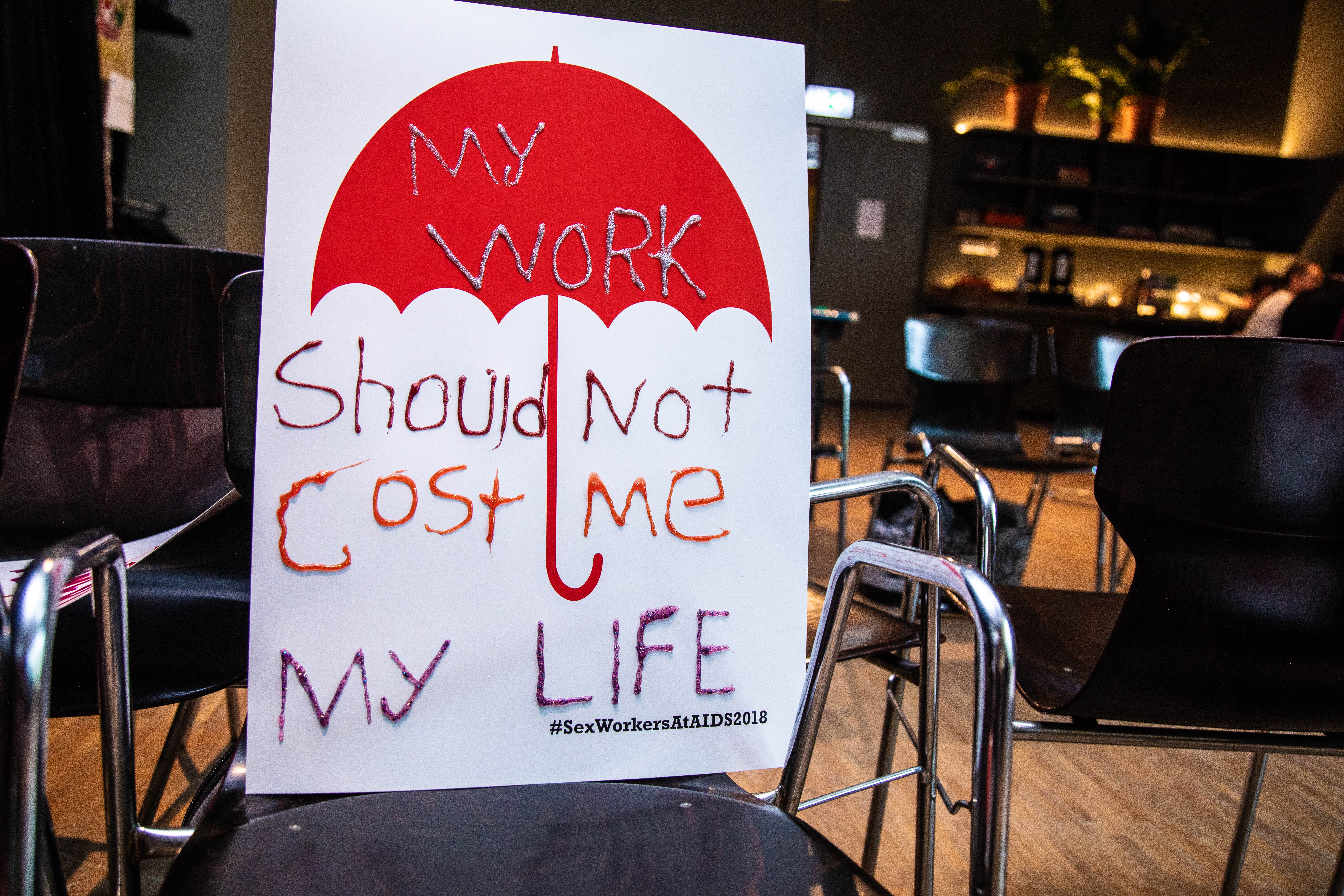 Stigma-free healthcare
Sex workers often experience stigma when accessing healthcare services. This can be discouraging and upsetting, and often stops them from coming back. Sex workers should have the same entitlement to healthcare as everyone else, including the right to be treated well and fairly by healthcare providers. In order to reduce sex work stigma, we encourage healthcare providers to bring in sex workers for their expertise on how to help sex workers access services freely and easily. Sex workers are also well-placed to run their own healthcare services, and we encourage funders to support sex worker-led groups to do this. For example, Umbrella Lane work with hundreds of sex workers in Glasgow to provide services that take a human rights-based approach to health. 
Decriminalise third parties
Many other aspects of sex workers' lives are criminalised under 'third party' laws. These are sometimes called 'pimping' laws, though we generally reject this term for being unclear and highly racialised. It's a criminal offence to 'live off the earnings of prostitution', which often criminalises sex workers' families and partners. Criminalisation of the 'facilitaton' of prostitution affects people who rent accommodation to sex workers, and leave sex workers vulnerable to evictions if their landlord feels threatened by arrest. These practices can also be seen acutely in some Nordic model countries where landlords have been threatened by police to evict sex workers or face arrest under third party laws.
An end to condoms as evidence
Condoms can be used as evidence of sex work by the police, as a means to raid and close workplaces, and to arrest street-based sex workers where there are laws against soliciting. In 2013, Police Scotland raided 18 venues in Edinburgh and seized condoms while detaining and strip-searching people on the premises. They went on to request "no items of a sexual nature [be] permitted on the premises" for licences to be renewed.
Using condoms as evidence of sex work means that sex workers are essentially being encouraged not to carry them out of fear of arrest. Managers won't provide them either if it means their venue could be raided. The raids in 2013 led to sex workers disengaging from health services and feeling less able to use condoms at work. 
Reject HIV stigma
Stigma is incredibly harmful for people living with HIV and has many overlaps with whorephobia and stigma against sex workers. Both HIV stigma and whorephobia rely on ideas of people being 'vectors of disease', and both sex workers and people living with HIV can be targeted by criminalisation at the expense of their health and rights. 
Stigma turns people away from services they need, and functions hand-in-hand with criminalisation. Laws that criminalise HIV transmission discourage people from accessing health services, and laws that criminalise sex work create distrust between sex workers and state services.  Addressing HIV stigma and whorephobia is an essential part of respecting and protecting the human rights of people living with HIV and sex workers, as well as tackling the HIV epidemic.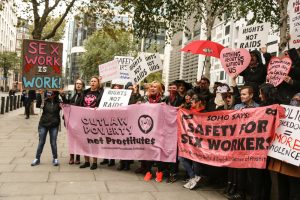 Decriminalisation of drugs
Sex workers and drug users are both harmed by criminalisation and stigma, with sex workers who use drugs being caught in twice in the crosshairs. The War on Drugs is often justified on the grounds that it is an attempt to save people from the harms of drug use, but we would argue that many of these harms are actually caused by criminalisation. No-one has ever died in a safe injecting facility anywhere in the world. Yet criminalisation – including in Scotland, where we have some of the worst numbers for drug deaths in Europe – blocks these facilities from operating. 
Some people sell sex to get the money to buy the drugs they need. Giving people a prescription for the drugs they are using, rather than criminalising them, would remove, or substantially decrease, their need to sell sex in order to pay for drugs. It would also immediately increase their safety and options. People who use drugs and/or sell sex deserve resources, support, and the right to determine their own lives in the way they wish. This includes accessing support for safer drug use or safer sex work, rather than have services deciding for them that the only acceptable goals are abstinence or exit.
Scot-Pep stands together with the movement of people who use drugs. We support the decriminalisation of everybody who uses drugs and an end to the harmful, racist, violent War on Drugs. 
An end to evictions
Sex workers may face eviction if their landlord finds out they are a sex worker. The threat of eviction, understandably, causes a great deal of stress, and force sex workers to work in more precarious conditions. They can end up working while homeless or in temporary accommodation, or having to work more in order to raise more money for a new place to live. Sex workers are human beings with the right to safe and secure housing. Any laws and policies which prevent this must be opposed by the Scottish Government and policymakers in the housing sector. 
Between 2007 and 2011, the Norwegian Government led 'Operation Homeless', a systematic eviction of sex workers from their homes and workplaces. This operation specifically targeted migrant sex workers with more than 400 apartments 'closed' by police. The operation wound down in 2011, and Amnesty International recognises this as start of how evicting sex workers became mainstream in sex work policy. Forced evictions are recognised as a breach of human rights law. You can find more about this in Amnesty International's report on sex work laws, The Human Cost of Crushing the Market, which includes in-depth interviews with sex workers in Norway. Norway's approach to evicting sex workers is part of the reason why we object so strongly to those who advocate for the Norwegian sex work model as a 'feminist' model or 'the equality model'.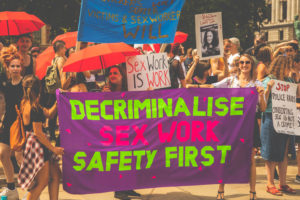 An end to threats of detention and deportation
Government services often share information with immigration enforcement. This means that undocumented people have limited or no access to vital services like healthcare, education, and police protection. Pregnant women are sometimes too frightened of deportation to use NHS services. The police sometimes report victims of crime to the Home Office, and this includes women who have experienced sexual assault or domestic violence. As a result, many undocumented women understandably feel unable to report crimes they have suffered to the police. Abusers can be aware of this and it empowers them to harm undocumented women with impunity. 
Establishing a firewall between immigration enforcement and other government services would remove a significant barrier to sex workers' ability to report violence. A firewall consists of a clear separation between agencies which carry out immigration enforcement and other agencies. This would ensure people can access vital services regardless of their immigration status, and do so without fear of detention or deportation. No one should ever have to weigh up the risk of deportation if they want to call 999, go to the emergency room, or enroll their child at a local school. 
Other organisations that advocate for a firewall between UK immigration enforcement and other agencies include FLEX, IPPR, Liberty and PICUM.

Funding for women's services
Funding for women's services should be a priority in Scotland, with many women struggling to access services if they experience violence or abuse. Well-funded mainstream women's services would also make it easier for women who sell sex to access the services they need, ideally alongside sex worker-led support services. 
If people want to exit sex work, there should be support available for them to do this. This must reflect the complexities inherent in people's lives, and should include things like monetary support without hoops to jump through or conditions to be met (such as never doing sex work again). Exit programmes rolled out in Nordic model countries often have very low take-up and we remain concerned about attempts to push people to exit at any cost, especially without the support to replace lost income. 
Make the links between sex work and other policy areas
We encourage organisations working in adjacent areas such as housing, health, LGBT rights and migration to consider how their work intersects with sex work, and bring in sex worker expertise to enrich their understanding of how their own work can affect sex workers. 
Reject sex work stigma
Stigma can be powerful and corrosive, and impacts not only sex workers but their families and children. It can come from individuals in throwaway comments, and from institutions and organisations. It can appear through active discrimination to a lack of consideration for sex workers' needs. 
This stigma can come from politicians and leaders. We have seen them use language about sex work and sex workers that can be dehumanising and inaccurate. They may feel they're raising awareness or acting for some greater feminist good, but it can sometimes feel like they've forgotten they're talking about human beings. Only recently, Rhoda Grant MSP said that "those who advertise prostitution are actively encouraging violence against women" – without any acknowledgement that most people who 'advertise prostitutution' are sex workers themselves, who are not 'encouraging violence' against themselves by doing so.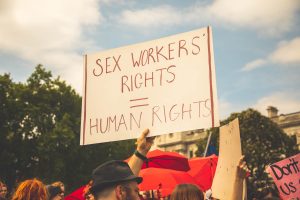 Support for LGBT people
The struggle for LGBT rights is tied to the struggle for sex workers' rights and we stand for support and protections for LGBT people.
LGBT people are over-represented in sex work with LGBT sex workers facing a double, or even triple, bind of whorephobia, homophobia, and transphobia. LGBT people often end up in sex work due to discrimination pushing them out of mainstream employment. They may find they have to leave their family home or rented accommodation due to homophobia or transphobia. Trans women, in particular, experience stark poverty as a result of transmisogyny.  
A commitment to provide resources for LGBT people who need them would help substantially reduce many people's need to sell sex to survive. This should include direct cash grants for housing support and replacement for lost income,
Bring sex workers into the women's movement
The women's movement can be a site of tension between sex workers and 'mainstream' women's groups – we're all very aware of the 'debate' between the two sides and that it can be deeply unpleasant. 
While not all sex workers are women, sex work is gendered work and the majority of workers are women. Therefore, sex workers' rights are women's rights. Women aren't safe while sex workers aren't safe. Our feminist response to violence and health must include sex workers and not consider violence against sex workers as collateral damage in the pursuit of broader women's rights. Greater diversity of voices around the table will also benefit our collective work towards a feminist future, as we all have things to teach and learn from each other. 
Listen to sex workers
Sex workers should be taken seriously in conversations about issues that affect them. Services for sex workers should be designed and delivered by sex workers as far as possible. For laws to be effective in protecting our rights and safety, we must take the lead from current workers in the industry. They are the experts in their own lives and working conditions, and must be at the centre of decision-making process.