Scot-Pep has been coordinating responses from sex workers and others to reject the push for client criminalisation through the Equally Safe consultation. We would like to say a huge thanks to everyone who's taken the time to respond so far, and a reminder that there's still time to submit your response by 10th December.
More than 1,000 people have responded through our online tool
We have received a lot of feedback from sex workers that the consultation is very challenging to respond to. Many are concerned about its framing around men's demand (rather than women's safety). We have created some resources to make the consultation more accessible for sex workers to respond to, including guidance, and an online tool to send responses directly to the consultation team. More than 1,000 responses have been sent through this tool so far, with a week to go until the consultation closes. We think this really shows the scale of resistance to an 'end demand' model in Scotland, as well as how challenging people have found it to respond to the consultation.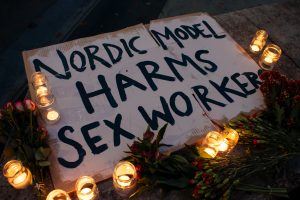 Last week we held a virtual screening of "Everything's Better Than a Hooker", in partnership with Glasgow Zine Library, and we held a short discussion afterwards along with Sex Workers Alliance Ireland. Thanks to everyone who joined us and contributed a thoughtful discussion on criminalisation. We also held a vigil to mark International Day to End Violence Against Women on 25th November. 
We've held two online workshops to go through the consultation questions, and we're holding one more session on Sunday 6th December at 2pm.
Responses
We will be publishing our  response very soon, and several organisations have already shared their responses: 
Media